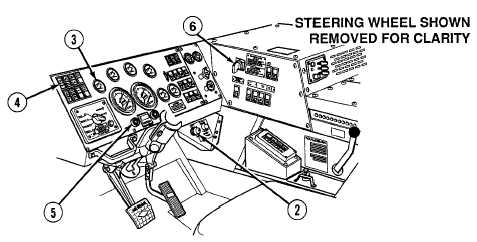 TM 9-2320-364-10
2-721
(2)
Turn engine ON/OFF/START switch (2) to START for no more than 15
seconds.  Release engine ON/OFF/START switch (2).  Engine
ON/OFF/START switch will spring back to ON position.  Oil pressure
indicator (3) and oil pressure lamp (4) may light and buzzer (5) may sound
briefly.
Engine speed must be at idle before using hydraulic selector
switch, or damage to equipment may result.
(3)
Turn hydraulic selector switch (6) to AUTO.
NOTE
Central Tire Inflation System (CTIS) should be in the ON
position only when parked during starts in COLD
environments.  CTIS will adjust tire pressure during the
warm-up period while the truck is parked.
(4)
Let engine idle for five minutes.