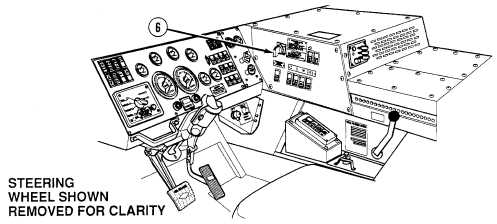 TM 9-2320-364-10
2-722     
2-50.  OPERATING TRUCK IN COLD ENVIRONMENT +45
DEGREES F TO –25 DEGREES F (+7 DEGREES C
TO –32 DEGREES C) (CONT).
NOTE
When running engine at 1200 to 1500 rpm, return engine
to idle every two minutes and check that DO NOT SHIFT
light is out.
(5)
Run engine at 1200 to 1500 rpm until DO NOT SHIFT light goes out.
·
Engine speed must be at idle before using hydraulic selector
switch, or damage to equipment may result
·
Hydraulic selector switch must be in OFF position before
driving or hydraulic system could overheat.
(6)
Turn hydraulic selector switch (6) to OFF.
(7)
Move CTIS switch to OFF position.