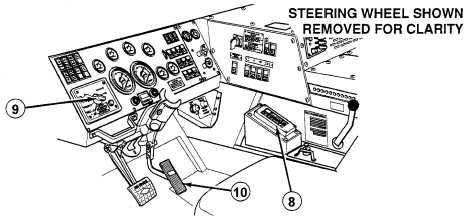 TM 9-2320-364-10
2-724     
2-50.  OPERATING TRUCK IN COLD ENVIRONMENT +45
DEGREES F TO –25 DEGREES F (+7 DEGREES C
TO –32 DEGREES C) (CONT).
(9)
Drive on mud, snow, ice and slippery surfaces as follows:
(a)
Move CTIS switch to ON position and set CTIS rotary selection
switch (9) to MUD, SAND AND SNOW (Para 2-24).
(b)
Press throttle control (10) slowly when changing speed.
(c)
Keep throttle control (10) steady after truck reaches desired speed.
(d)
Turn truck slowly when on slippery surfaces.
(e)
Steer truck away from ruts and large snow banks.
(f)
Steer truck straight up and down hills if possible.
(g)
Set transmission range selector (8) to 2nd or 3rd gear to go down
medium grades.
(h)
Drive at slower speeds and keep twice the normal distance from
truck ahead.
(i)
Activate turn signals sooner.
(j)
Install tire chains, if needed (Para 2-52).