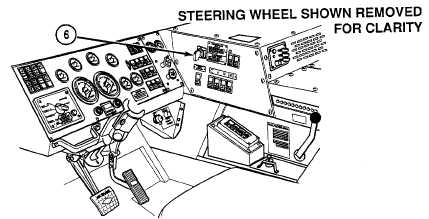 TM 9-2320-364-10
2-734     
2-51.  OPERATING TRUCK IN EXTREME COLD
ENVIRONMENT –26 DEGREES F TO –50 DEGREES F
(–32 DEGREES C TO –46 DEGREES C) (CONT).
Engine speed must be at idle before using hydraulic selector
switch, or damage to equipment may result.
(6)
Before operating Load Handling System (LHS), perform warm-up as follows:
(a)
Select LHS position on the hydraulic selector switch (6).  Allow pump to
operate for five minutes at idle.  LHS is then ready for operation at idle.
(b)
Cycle at idle the LHS (Para 2-29).
(c)
After one complete cycle at idle, the LHS is ready for normal
operation.