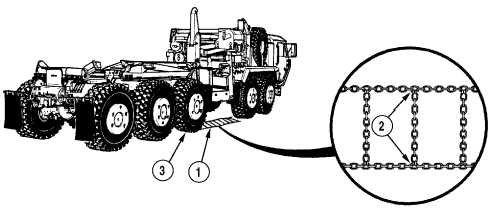 TM 9-2320-364-10
2-735
2-52.  INSTALL/REMOVE TIRE CHAINS.
a.
Install Tire Chains.
Do not back up truck without ground guide.  Limited vision
can lead to truck damage and injury to personnel.
·
Use tire chains on Axles No. 3 and 4 only.  Chains must not be
used when driving on hard surfaces where there is no wheel
slippage.  Improper use of tire chains may result in severe
equipment damage.
·
Truck Central Tire Inflation System (CTIS) setting must not be
set below CROSS COUNTRY setting, or equipment damage
may result.
·
Maximum speed limit for trucks with chains on highway is 10
mph (17 km/h), off highway is 15 mph (24 km/h)  traveling
above maximum speed may result in damage to equipment.
NOTE
(1)
Place tire chain (1) on ground with cross chain connecting links (2) facing
down in front of tire (3).