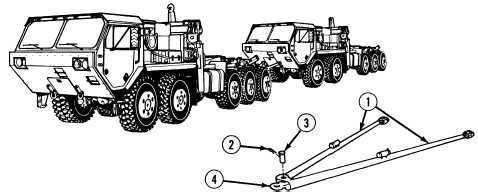 TM 9-2320-364-10
2-746     
2-56.  TOW HOOKUP PROCEDURES.
a.
Tow Hookup Procedures When Towing Another PLS Truck or an M345,
M989 or M989A1 Trailer.
·
The disabled truck being towed must have no load or less load
than the towing truck or personal injury or death may result.
·
Tow bar weighs approximately 330 lbs. (150 kg).  Use suitable
lifting device or assistants to lift tow bar.  Failure  to comply
may result in serious injury or death to  personnel.
(1)
Chock wheels of disabled truck.
(2)
With the aid of assistants, set tow bar (1) on ground.
(3)
Remove cotter pin (2) and pin (3) from pivot point (4) on tow bar (1) and
separate tow bar.