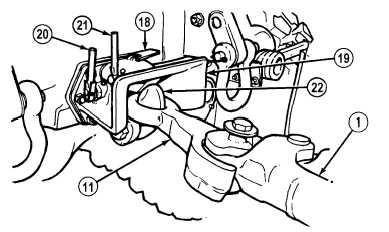 TM 9-2320-364-10
2-749
(17)
Lift up locking gate (18) on coupler (19).
(18)
Pull locking lever (20) out and pull lever (21) back at same time to open
coupler jaw (22).
Do not put hands near coupler while aligning adapter and tow
bar with coupler jaw.  If towing truck moves suddenly it may
cause serious injury to personnel.
NOTE
·
A ground guide must be used for Step (19).
·
Coupler jaw will close when tow bar makes contact with
coupler.
(19)
With the aid of assistants, lift tow bar (1) and adapter (11) while another
assistant guides towing truck back slowly to disabled truck.
(20)
Connect adapter (11) to coupler (19).
(21)
Close locking gate (18) on coupler (19).
(22)
Pull towing truck forward slightly to verify that coupler jaw (22) has locked
onto adapter (11).