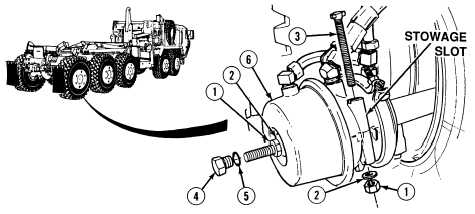 TM 9-2320-364-10
2-762     
2-56.  TOW HOOKUP PROCEDURES (CONT).
c.
Manually Release and Set Spring Brakes (Brake Chambers).
·
Brake chamber contains a spring that is under pressure.  To
prevent injury or death, never work directly behind brake
chamber.  Do not disassemble brake chamber.
·
Chock the truck wheels between Axles No. 3 and 4 on both sides
of the truck.  Failure to chock the wheels could  result in severe
injury or death.
NOTE
This procedure is used when the disabled truck's air
system is inoperative and the disabled truck cannot be
towed with the back end raised by a wrecker.  It is only
necessary to release the brakes on Axles No. 3, 4 and 5.
(1)
Remove nut (1) and washer (2) from caging bolt (3) in stowage slot.
(2)
Remove caging bolt (3), protective cap (4) and preformed packing (5) from
brake chamber (6).
(3)
Insert T-end of caging bolt (3) into the hole on rear of the brake
chamber (6).  Rotate caging bolt (3) clockwise 1/4 turn in brake chamber
(6) until it stops.