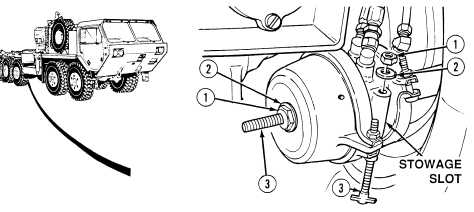 TM 9-2320-364-10
2-763
NOTE
·
If caging bolt cannot be pulled directly out it is properly
inserted.
·
Spring is fully compressed when caging bolt is sticking out
approximately three in. (8 cm).
(4)
Install the caging bolt (3) using washer (2) and nut (1).  Tighten until spring
is fully compressed.
(5)
Repeat Steps (1) through (3) for the other brake chambers.
(6)
The procedure for setting the brakes is as follows:
Brake chamber contains a spring that is under pressure.  To
prevent injury or death, never work directly behind brake
chamber.  Do not disassemble brake chamber.
(a)
Remove nut (1) and washer (2) from caging bolt (3).