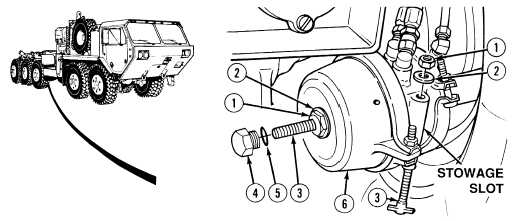 TM 9-2320-364-10
2-764     
2-56.  TOW HOOKUP PROCEDURES (CONT).
(b)
Turn caging bolt (3) counterclockwise 1/4 turn and remove from brake
chamber (6).
(c)
Install caging bolt (3) in stowage slot with washer (2) and nut (1).
NOTE
When mission is completed, have Unit Maintenance
replace preformed packing and tighten protective cap to
120 lb.-in. (14 N.m).
(d)
Install preformed packing (5) and protective cap (4) on brake chamber
(6).