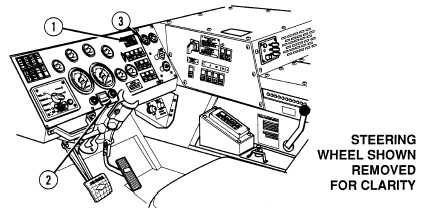 TM 9-2320-364-10
2-768     
2-57.  EMERGENCY PROCEDURES (CONT).
b.
Losing Air System Pressure.
·
Operating the truck with an air pressure system loss is
dangerous.  The truck has reduced braking capability.
Operating truck with loss of air pressure may cause serious
injury or death to personnel.
·
Steep terrain, slippery conditions, and other hazardous driving
factors must be considered before attempting to drive in an
emergency situation.  Failure to comply may result in injury or
death to personnel.
(1)
If the AIR indicator (1) lights and/or warning buzzer (2) sounds while
driving truck, check AIR PRESS gage (3).