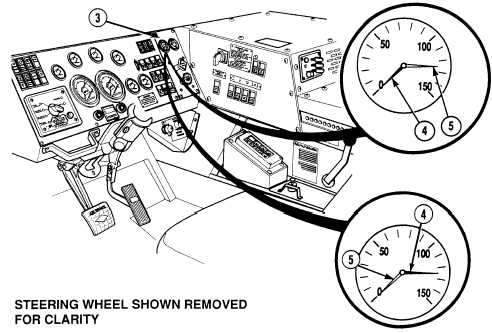 TM 9-2320-364-10
2-769
·
If air pressure gage reads approximately 45 psi (310 kPa) or
less, spring brakes will be fully applied automatically causing
possible loss of control.  Serious injury or death may result.
·
Maximum braking requires 90 psi (621 kPa) or more air
pressure.  If air pressure drops below 90 psi (621 kPa), braking
ability will be reduced.  If air pressure continues to drop air
system is malfunctioning.  Brake failure may result causing
injury or death to personnel.
(2)
If the green pointer (4) on AIR PRESS gage (3) is at 60 psi (414 kPa) or
less and red pointer (5) shows normal air pressure of 100 to 120 psi (690 to
827 kPa), there is loss of air to the front brakes.  In this situation, do the
following:
(a)
Continue cautious operation of truck. Brakes on Axles No. 3, 4, and 5
and trailer will operate.  Drive truck slower and allow additional
stopping distance.