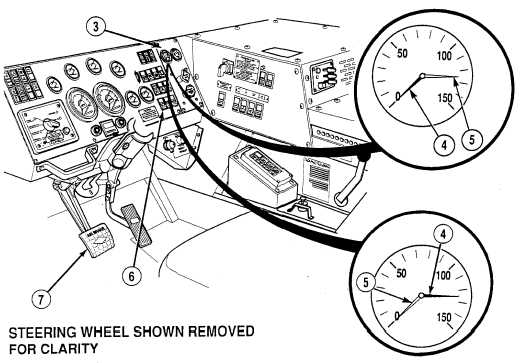 TM 9-2320-364-10
2-770     
2-57.  EMERGENCY PROCEDURES (CONT).
Apply engine brake only when truck tires have good traction.
Use of engine brake on slick surfaces can cause truck to skid
and cause injury or death to personnel.
(b)
Down shift and use engine brake (6), if necessary, when slowing
truck.
(c)
Refer to troubleshooting as soon as possible.
(3)
If the red pointer (5) on AIR PRESS gage (3) is at 60 psi (414 kPa) or less and
green pointer (4) shows normal air pressure of 100 to 120 psi (690 to 827
kPa), there is loss of air for the rear brakes to operate normally.  Rear brakes
will operate by means of the spring brakes, controlled by the front brake
system through the service brake pedal (7).  In this situation, do the following: