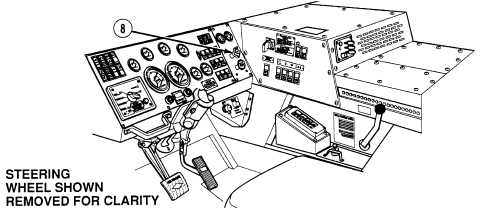 TM 9-2320-364-10
2-773
Truck cannot be driven again until malfunction is repaired and
there is enough air supply for operation of service brakes.
Failure to comply may result in damage to equipment.
(a)
Look for suitable place to stop truck immediately.  Spring brakes on
truck and trailer will apply, bringing truck to a sudden stop.
(b)
Downshift, as needed, to control truck speed until suitable place is
found to stop.
(c)
If possible, for a more controlled stop, pull out parking brake control
knob (8) to apply spring brakes on Axles No. 3, 4 and 5 before
pressure drops below 45 psi (310 kPa).
(d)
Refer to Troubleshooting as soon as possible (Para 3-3).
After caging brakes, truck brakes will be inoperative possibly
causing injury or death to personnel.
(5)
For emergency conditions, such as moving the truck a short distance, the
spring brakes can be caged.  See Tow Hookup Procedure (Para 2-56).