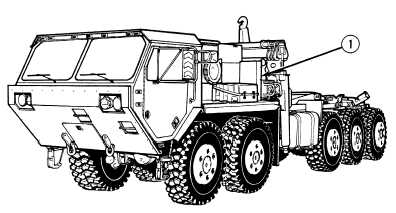 TM 9-2320-364-10
2-776     
2-57.  EMERGENCY PROCEDURES (CONT).
d.
LHS Auxiliary Slave Hydraulics Operation (Auxiliary [Slave] Hydraulics).
If LHS system on disabled truck is not in fully stowed
(transport position), remove hydraulic tank cap from operable
truck prior to starting the task to allow excess hydraulic oil to
drain.  Failure to comply may result in damage to hydraulic
tank or hydraulic system.
NOTE
·
This procedure can only be used if there are no leaks or breaks
in the hydraulic system.
·
This procedure is used to remove the load from a PLS truck
with a failed hydraulic pump or other failure which prevents
operation of the hydraulic system.
·
Each PLS truck is equipped with one hydraulic slave hose.  Two
hoses (one from each truck) are required to perform slave
hydraulics.  Remove hoses from stowage boxes of trucks.
(1)
Move trucks into position so LHS control box (1) on both trucks are side by
side.
(2)
Shut off engines (Para 2-23) and park both trucks (Para 2-22).