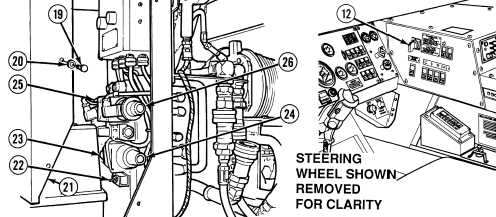 TM 9-2320-364-10
2-781
NOTE
Only remove center screw on engine side of LHS control
box cover.
(13)
On disabled truck, remove four screws (19), lockwashers (20) and LHS
control box cover (21).
NOTE
Button may be stiff and hard to push in.
(14)
Press and hold free flow valve override button (22).  Press one or more of
the following buttons to return LHS to the stowed position: hook arm UP
(23), hook arm DOWN (24), main frame UP (25), main frame DOWN (26).
Engine speed must be at idle before using hydraulic selector
switch, or damage to equipment may result.
(15)
Turn hydraulic selector switch (12) to OFF position.
(16)
Shut down engine on both trucks.