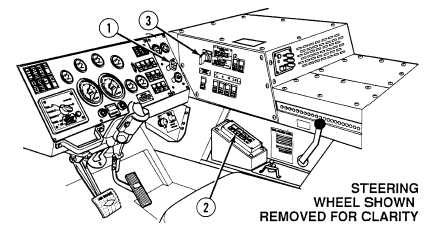 TM 9-2320-364-10
2-785
e.
Manual Hydraulic Operation (LHS).
Ensure operator, objects and other personnel are clear of LHS
and truck during LHS operation or serious injury or death
could result to personnel.
NOTE
In the event of electrical failure during loading or
unloading, manual operation of main manifold directional
control valves will allow LHS operation until electrical
failure can be repaired.
(1)
Apply truck parking brakes (1) and place transmission range selector (2) in
Neutral (N).
Engine speed must be at idle before using hydraulic selector
switch, or damage to equipment may result.
(2)
Set hydraulic selector switch (3) to MAN H.A., MAN M.F. or AUTO
position.
(3)
Remove 7/16 in. and 1/2 in. combination wrenches from stowage box.