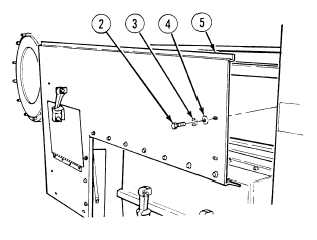 TM 9-2320-364-10
2-791
When removing side access panel, be careful not to damage
wiring harness or other equipment, or damage to equipment
may result.
(2)
Remove eight screws (2), lockwashers (3) and washers (4) from side access
panel (5) and remove side access panel.
NOTE
Only remove center screw on engine side of LHS control
box cover.
(3)
Remove four screws (6), lockwashers (7) and LHS control box cover (8).
(4)
Turn ignition switch (9) to ON position to allow power to electrical system,
but do not start engine.