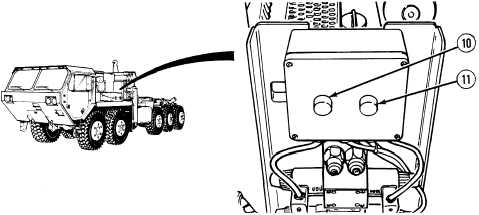 TM 9-2320-364-10
2-792     
2-57.  EMERGENCY PROCEDURES (CONT).
NOTE
Operate electrical lowering override buttons by pressing
and releasing buttons, which controls movement of LHS.
(5)
Locate electrical hook arm override button (10) and main frame override
button (11).
Before depressing electrical lowering override buttons,
direction of LHS payload movement (load or unload) must be
known.
(6)
If flatrack and load center of gravity is over truck, load will return to transport
position.  If flatrack and load center of gravity is over rear of truck, flatrack
will lower to the ground.
NOTE
Under certain circumstances, an assist truck may be
needed to aid in pulling payload back, if dug in.
(7)
Press main frame override button (11) for unloading.  Ground conditions
will determine if flatrack rolls/slides across ground or digs in.  In event of
digging in, operator should stop electrical override button operation.  If this
condition exists, the load will have to be unloaded manually.