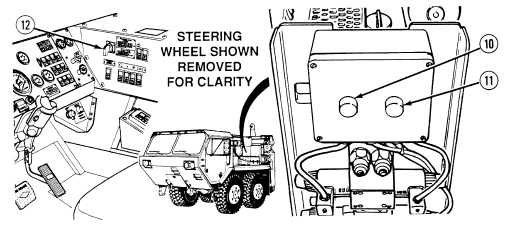 TM 9-2320-364-10
2-793
(8)
As flatrack unloads, operator continues using main frame electrical override
button (11).  Weight of flatrack and payload will continue until load is on
ground.  Operator will have to exercise caution during this procedure.  If
flatrack is not fully on ground, the hook arm override button (10) may be
pressed until flatrack is on ground.
(9)
In event of load returning to transport position on truck during main frame
override button (11) operation, the operation continues using the electrical
and LHS movement stops.  The operator then presses the hook arm override
button (10) until the hook-arm cylinders are in transport position.  Operator
then moves hydraulic selector switch (12) to MAN TRANS position, which
allows truck to be driven.  Flatrack and payload must be manually
off-loaded.  Refer to Para 2-57g.