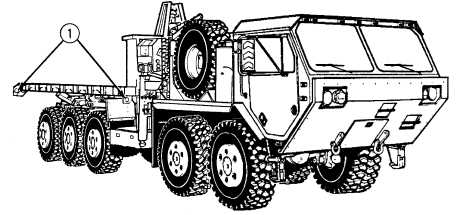 TM 9-2320-364-10
2-795
g.
Manual Removal of Flatrack.
M1077 flatrack weights 3,200 lbs. (1,453 kg).  M1077A1
flatrack weights 3,900 lbs. (1,771 kg).  Attach suitable lifting
device prior to removal or installation to prevent possible
injury to personnel.
It is not possible to load a flatrack onto a truck in this manner
or equipment damage may result.
NOTE
If complete system failure or hydraulic failure as
described in Para 2-57 does not allow normal operation,
remove payload or flatrack and payload from truck.
(1)
Remove flatrack with lifting device as follows:
(a)
Secure lifting slings to flatrack lifting eyes (1).