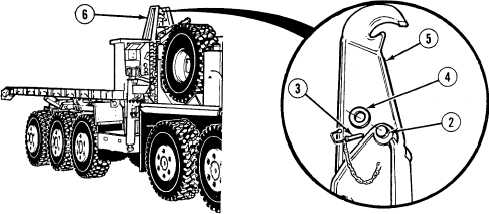 TM 9-2320-364-10
2-796     
2-57.  EMERGENCY PROCEDURES (CONT).
Lifting-hook weighs 200 lbs. (91 kg).  Attach suitable lifting
device prior to removal or installation to prevent possible injury
to personnel.
(b)
Apply tension to sling and lift flatrack slightly to relieve pressure on
locking pin (2).  Remove pin (3), washer (4) and locking pin (2) from
lift-hook (5).
(c)
Using a lifting device, lift flatrack slightly.  (Flatrack will not rise due to
flatrack hook bar being engaged under lift-hook (5) and load locks being
engaged.)
Personnel must stand clear of flatrack and lift-hook areas
during manual unload procedures or injury to personnel may
result.
(d)
Using another truck or an anchor point, pull flatrack rearwards from
lift-hook (5) until lift-hook clears and falls free of flatrack hook bar (6).
(2)
Move lift-hook back into position and install locking pin (2), washer (4) and
pin (3) in lift-hook (5).