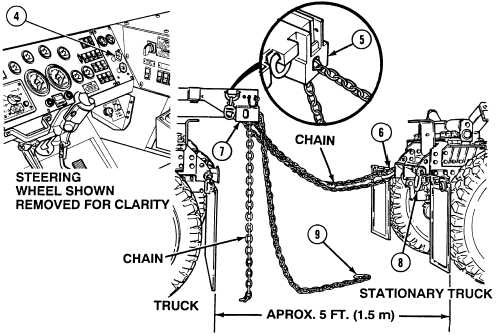 TM 9-2320-364-10
2-798     
2-57.  EMERGENCY PROCEDURES (CONT).
(d)
With the aid of an assistant, position truck so rear of truck is about
five ft. (1.5 m) from another stationary truck and apply parking brakes
(4) on both trucks.
Use of a chain at each flatrack corner casting is required or
damage to equipment can result.
NOTE
Use of the 14 ft. (4.2 m) chain from the truck BII and
another chain of equal length and strength is required.
(e)
Route one chain through the right ISO corner casting (5) of truck and
through the left tow eye shackle (6) on the stationary truck.
(f)
Route the second chain through the left flatrack ISO corner casting (7)
of truck and through the right tow eye shackle (8) on the stationary
truck.
(g)
Adjust chains to equal lengths and hook chain hooks (9) on chains.