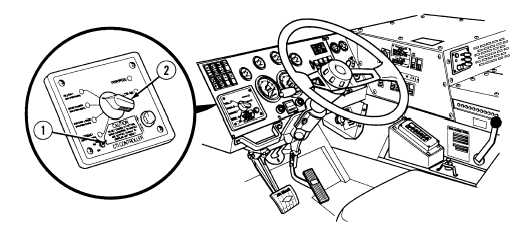 TM 9-2320-364-10
2-803
j.
Manual Inflate/Deflate Tires with CTIS Failure.
(1)
Turn CTIS ON/OFF switch (1) to OFF position.
Tire pressure must be manually deflated or inflated to match
CTIS rotary selection switch setting during CTIS failure.
Failure to comply may result in damage to driveline
components.
(2)
Set rotary selection switch (2) to the appropriate road condition.  
See Table 1-28.
(3)
Refer to Table 2-9 for correct tire pressure.
Table 2-9.  CTIS Maximum Air Pressure Settings (Cold or Hot)
SETTING
FRONT WHEELS
REAR WHEELS
1.  HIGHWAY
65 psi (448 kPa)
75 psi (517 kPa)
2.  CROSS COUNTRY
34 psi (234 kPa)
38 psi (262 kPa)
3.  MUD, SAND AND SNOW
20 psi (138 kPa)
23 psi (159 kPa)
4.  EMERGENCY
15 psi (103 kPa)
18 psi (124 kPa)