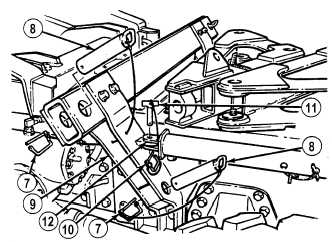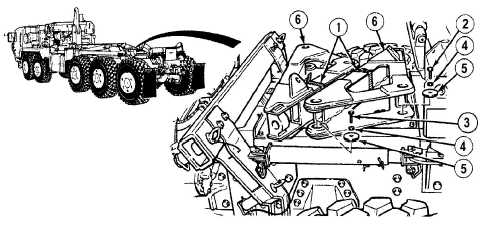 TM 9-2320-364-10
2-809
2-58.  TRUCK PREPARATION FOR TRANSPORT.
a.
Truck Preparation for Lift.
NOTE
Ensure Container Handling Unit (CHU) is in stowed
position if equipped (Para 2-43).
(1)
Remove lift bracket tie down straps (1), two screws (2), screws (3), four
lockwashers (4) and plates (5) from brackets (6).  Discard lockwashers.
NOTE
·
Secure mounting hardware to bracket storage grill for
storage.
·
Both brackets are installed the same way.  Left bracket is
shown.
(2)
Remove two safety pins (7) and two lift assembly pins (8) from lift
assembly (9).
(3)
Remove front safety pin (10) and pin (11) from stabilizer arm (12).