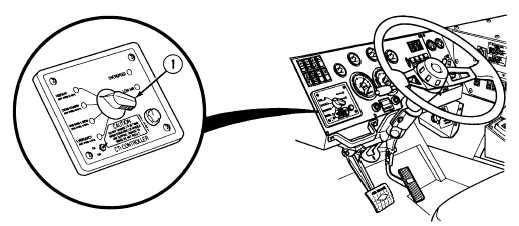 TM 9-2320-364-10
2-15
Figure 2-5.  CTIS Controller Controls and Indicators – CONT.
Key
Control or Indicator
Function
1
Rotary Selection Switch
(CTIS) - (Continued)
Selects  one  of  four  tire  pressures  and  drive
line   lock   up   for   maximum   traction   and
minimum tire wear under various conditions
and speed limits as follows:
·    

Highway - 55 mph (88 km/h)
·    Cross Country - 40 mph (64 km/h)
·    

Mud, sand, and snow - 12 mph (19 km/h)
·    

Emergency - five mph (8 km/h)
·    

Do not change CTIS settings when
cornering or wheels are slipping.  Damage to
drive line may result.
·    

CTIS ON/OFF switch should be in ON
position at all times.  Overspeed protection
will not operate if switch is in OFF position
and tire pressure may not match driving
speeds, resulting in unsafe driving conditions
or tire damage.