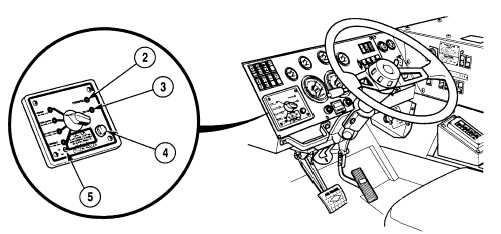 TM 9-2320-364-10
2-17
Figure 2-5.  CTIS Controller Controls and Indicators - CONT.
Key
Control or Indicator
Function
2
Overspeed Indicator
Lights (amber) when truck average speed for
one minute exceeds the speed limit for
rotary selector switch (CTIS) setting.
3
Low Air Indicator
Lights solid (red) to warn of low pressure in
truck air system.  This condition causes CTIS
to shut down giving truck brake system prior-
ity to the available air pressure.  CTIS will
automatically resume operation when air
pressure builds up to about 110 psi (758 kPa).
Light will flash if CTIS has detected a leak in
the tires, hoses, fittings, air connections,
wheel seals, or is malfunctioning.
4
Start Switch
Press (and hold for one second) this push
button switch to start operation of CTIS.
5
ON/OFF Switch
Turn switch to ON position for normal  
CTIS operation.  Driveline lockup function
will still operate with switch in OFF position.