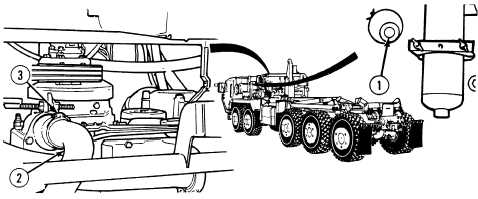 TM 9-2320-364-10
3-8     
Table 3-1.  Troubleshooting - CONT.
Malfunction
Test or Inspection
Corrective Action
ENGINE (CONT).
4.
ENGINE OVERHEATS, (WARNING BUZZER SOUNDS, CHECK
COOLANT LIGHT COMES ON OR WATER TEMPERATURE
GAGE READS ABOVE 230 DEGREES).
Radiator, radiator cap, coolant, and hoses are very hot and pressurized during
truck operation.  Let radiator cool before checking hoses.  Failure to do so may
result in serious burns to personnel.
Step 1.    Check if coolant is visible in sight glass (1).
·
If coolant is not visible, notify Unit Maintenance.
Step 2.    Check if radiator grating is obstructed (leafs, paper etc.).
·
If obstructed clear grating.
·
If not obstructed, go to Step 3.
Step 3.    Check for missing or loose radiator cap.
Step 4.    Open top engine compartment door.
Step 5.    Check radiator hoses (2), clamps (3) and radiator for leaks.
·
Tighten loose hose clamps (3).
·
If radiator or hoses leak, notify Unit Maintenance.