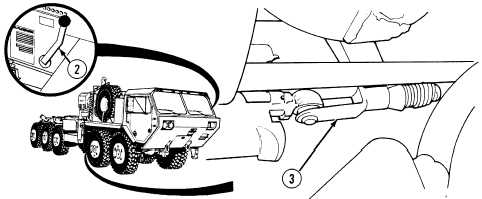 TM 9-2320-364-10
3-14     
Table 3-1.  Troubleshooting - CONT.
Malfunction
Test or Inspection
Corrective Action
TRANSFER CASE (CONT).
2.
TRANSFER CASE SHIFT LEVER WILL NOT SHIFT (CONT).
Park truck, set parking brake, stop engine and chock tires before doing
Step 3 or serious injury or death to personnel could result.
Step 3.    Check for mud or debris around shift cable (3).
·
Clean mud and debris from shift cable and attempt to shift.
Step 4.    Check that TRANSFER CASE shift lever (2) is fully engaged
(Para 2-17).  If shift lever still does not stay engaged, notify
Unit  Maintenance.