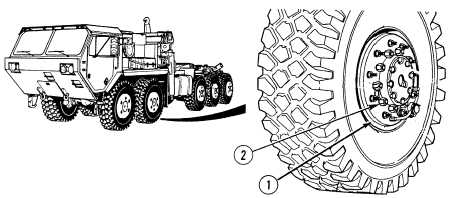 TM 9-2320-364-10
3-15
Table 3-1.  Troubleshooting - CONT.
Malfunction
Test or Inspection
Corrective Action
WHEELS
1.
WHEEL WOBBLES.
Step 1.    Refer to Para 3-5 and remove wheel covers.
Step 2.    Check wheel (1) for loose, missing or broken nuts (2).
·
Tighten loose nuts and notify Unit Maintenance to have nuts
tightened to torque requirements.
Step 3.    Check tire for bulges and inspect for visually bent wheel.
·
If wheel is bent or tire has bulges, change wheel and tire
assembly (Para 3-5).
·
If wheel still wobbles, notify Unit Maintenance.