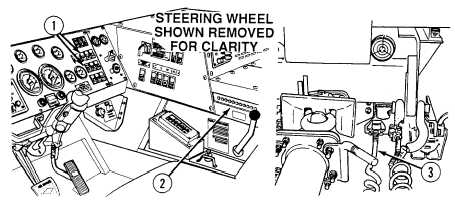 TM 9-2320-364-10
3-23
Table 3-1.  Troubleshooting - CONT.
Malfunction
Test or Inspection
Corrective Action
ELECTRICAL (CONT).
2.
ONE OR MORE LIGHTING OR CONTROL CIRCUITS NOT
OPERATING.
NOTE
Black out switch must be in OFF position.
Step 1.    Check to make sure lighting system controls (1) are in ON or
operating  position.
Step 2.    Check circuit panel for tripped lighting breakers (2).  Reset
and try again.
·
If breaker trips again, notify Unit Maintenance.
Step 3.    If trailer is attached and trailer lighting system is not working, check
intervehicular  connection  (3).
·
If cable connector is loose, reconnect it.
·
If cable is secure and lights still do not operate, notify Unit
Maintenance.