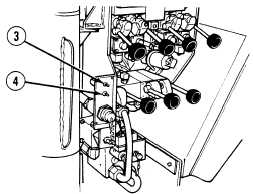 TM 9-2320-364-10
3-28     
Table 3-1.  Troubleshooting - CONT.
Malfunction
Test or Inspection
Corrective Action
MATERIAL HANDLING CRANE (MHC) (CONT).
1.
MHC WILL NOT OPERATE (CONT).
Step 4.    Check main hydraulic reservoir for fluid level.
·
If level is low, notify Unit Maintenance.
·
If level OK, go to Step 5.
Step 5.    Ensure that MHC main power ON/Off switch (3) is in ON position.
NOTE
If high idle does not work, but is required for mission, remove chock
block from stowage and place on throttle control to achieve desired
high idle.  Notify Unit Maintenance when mission is completed.
Step 6.    Ensure High Idle Speed switch (4) is latched and truck engine
speed is at high-idle (1275 rpm).
Step 7.    Check that outrigger jacks are firmly deployed.  If not, lower
outrigger jacks until front suspension is unloaded and tires do not bulge.
·
If outrigger cannot be lowered, go to Step 8.
·
If outrigger can be lowered, go to Step 9.