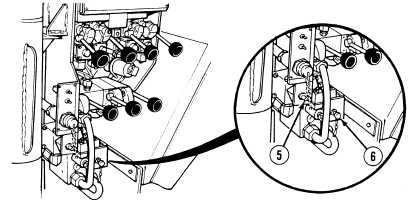 TM 9-2320-364-10
3-30     
Table 3-1.  Troubleshooting - CONT.
Malfunction
Test or Inspection
Corrective Action
MATERIAL HANDLING CRANE (MHC) (CONT).
1.
MHC WILL NOT OPERATE (CONT).
When the wire is cut and the override valve is pushed in, the crane
overload safety features do not function.  Make sure outrigger jacks are
firmly in place or injury to personnel or equipment damage could result.
Step 10. Ensure MHC Main Hydraulic Pressure Manual Override (5) is still out.
Use pliers and cut wire on MHC System Hydraulic Pressure Manual
Override (6).  Press in button and hold.  Check that outrigger jacks
can now be lowered to maintain full contact with ground.
·
If outrigger jacks cannot be lowered to ground, notify Unit
Maintenance.
·
If outrigger jacks can be lowered, go to Step 11.
Step 11.  Check that all crane controls on main valve bank operate with MHC
System Hydraulic Pressure Manual Override (6) pressed in.  Continue
operations and mission.  Notify Unit Maintenance when mission is
completed.
·
Refer to Emergency Procedures (Para 2-57) to complete
mission.
·
If MHC controls do not operate, notify Unit Maintenance.