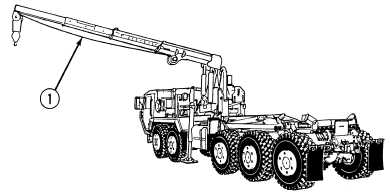 TM 9-2320-364-10
3-34     
Table 3-1.  Troubleshooting - CONT.
Malfunction
Test or Inspection
Corrective Action
MATERIAL HANDLING CRANE (MHC) (CONT).
5.
BOOM OPERATION JERKY OR WILL NOT TELESCOPE IN OR
OUT (CONT).
Step 6.    If boom operation is still jerky, there may be air in cylinders.
·
Remove load from MHC, then raise boom above horizontal;
telescope out.  Lower boom below horizontal; telescope in to
purge air from cylinder.
Step 7.    If any problem remains, notify Unit Maintenance.
6.
HOIST OPERATION JERKY WILL NOT LIFT OR LOWER LOAD.
Step 1.    Check that outrigger jacks are firmly deployed.  If not, lower
outrigger jacks until front suspension is unloaded.
Step 2.    Check that load is not in a over load limit shown on range
diagram (Para 2-30).
·
If load is over limits, lower load, and reduce load to correct
weight.
Step 3.    Check if hoist cable (1) is binding on drum.
·
If cable is binding, refer to Malfunction 8.