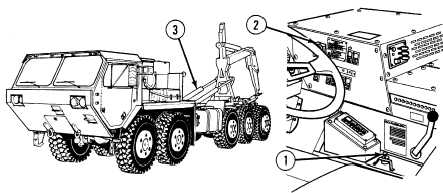 TM 9-2320-364-10
3-38     
Table 3-1.  Troubleshooting - CONT.
Malfunction
Test or Inspection
Corrective Action
LOAD HANDLING SYSTEM (LHS) (CONT).
2.
LHS MAIN FRAME CYLINDERS MOVE SLOWLY DURING
UNLOAD OPERATION.
Step 1.    Check fluid in main hydraulic reservoir, with LHS in transit position.
·
If fluid level is low, notify Unit Maintenance.
·
If fluid level is OK and problem persists, go to Step 2.
Step 2.    If operating in mode:
a.
Throttle engine to approximately 1500 rpm.
b.
Move joystick (1) to LOAD position and hold for approximately
three seconds.
Engine speed must be at idle before using hydraulic selector switch or
damage to equipment may result.
c.
If in MAN M.F. move hydraulic selector switch (2) to OFF or
MAN TRANS position for approximately three seconds, return
switch to desired position and continue unloading operation.
d.
Release joystick (1) and continue unloading operations.
e.
If main frame cylinder (3) still operates slowly, repeat Steps a.
through c. one more time.
f.
If problem remains, notify Unit Maintenance.