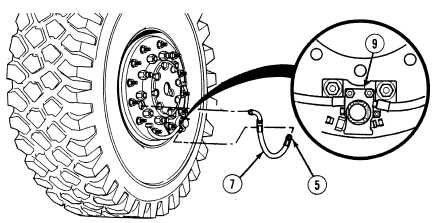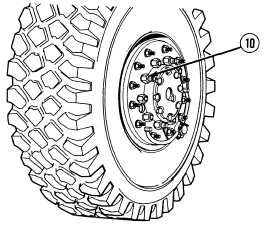 TM 9-2320-364-10
3-59
(4)
Install two CTIS hoses (7) (removed from flat tire) on spare tire CTIS
wheel valve (9) and tighten nut (5) finger tight.
Do not loosen or remove outer bolt circle nuts on wheel.  
Outer bolt circle holds wheel assembly together.  Tire is under
pressure and loosening these nuts can cause the tire to blow
apart.  Severe injury or death may occur.
NOTE
Studs and lug nuts on both sides of truck have right-hand
threads.  Rotate lug nuts counterclockwise to loosen,
clockwise to tighten.
(5)
Using air wrench and 1-1/2 in. socket, remove ten lug nuts (10).