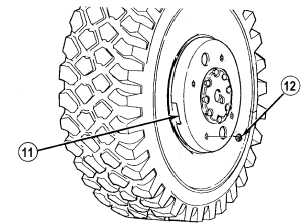 TM 9-2320-364-10
3-65
NOTE
Ensure hole in wheel cover is aligned with tire valve.
(11)
Position wheel cover (11) and tighten four wheel cover nuts (12).
When using air wrench to tighten wheel cover nuts, be careful
not to over-tighten nuts.  Damage to nut and stud may occur if
wheel cover nuts are over-tightened.
NOTE
When mission is completed, take truck to nearest Unit
Maintenance to have wheel cover nuts properly tightened
to 170 to 180 lb-ft (231 to 244 N.m).
(12)
Tighten four wheel cover nuts (12) using air wrench and 33 mm socket.