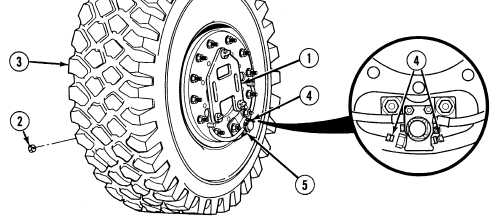 TM 9-2320-364-10
3-66     
3-5.  TIRE REPLACEMENT (CONT).
d.
Stow Tire Using Tire Davit.
NOTE
Ensure pointed end of mounting plate is pointed to the
third hole (left or right side) from the center of the wheel
valve to prevent damage to valve from cable.
(1)
Using air wrench and socket, install mount plate (1) and three nuts (2) on
flat tire (3).
Be careful not to twist the CTIS plug tethering cables.  Failure
to comply may result in damage to equipment.
(2)
Install two plugs (4) to CTIS valve (5) using 7/8 in. by 3/4 in. open end
wrench.
(3)
Roll flat tire (3) under hoist arm so deep side of wheel dish is facing out and
away from truck.