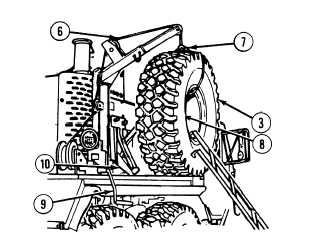 TM 9-2320-364-10
3-67
NOTE
Cable is routed through smaller square hole in mount plate
with single mounting stud facing up.
(4)
Pull cable (6) and hook (7) through small square hole in mount plate (8) and
around flat tire (3).
Ensure cable is connected at point where rubber casing covers
cable or damage to cable could result.
(5)
Attach the hook (7) to the cable (6) above flat tire (3).
·
Stand clear of tire when raising or lowering or injury to
personnel may result.
·
Do not let tire hang in midair for long period of time.  
Place tire on carrier or on ground as soon as possible.  
Tire is very heavy and could cause serious injury if it falls.
(6)
Turn hand crank (9) clockwise to raise flat tire (3) just above carrier (10).