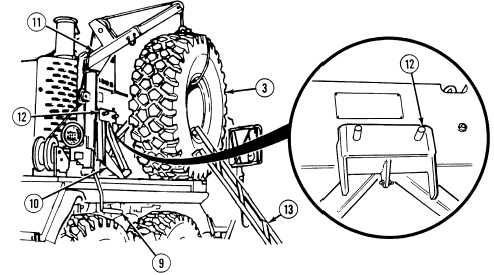 TM 9-2320-364-10
3-68     
3-5.  TIRE REPLACEMENT (CONT).
NOTE
·
Use the ladder to push tire over carrier.
·
If tire will not move or is too hard to move, install ladder to left
side of truck and pull hoist in.
(7)
Swing hoist arm (11) so flat tire (3) is over carrier (10) and aligned with
studs (12).
(8)
Install ladder (13) to right side of truck.
(9)
Turn hand crank (9) counterclockwise to lower flat tire (3) into carrier (10).