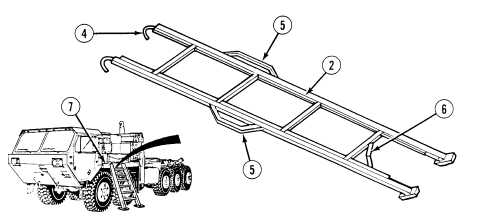 TM 9-2320-364-10
3-77
b.
Stow Ladder.
(1)
Remove ladder (2) from fender (7).
Keep fingers away from pivot points of lock holding latch.
Fingers may be pinched causing injury to personnel.
(2)
Release holding latch (6) at bottom of the ladder (2).
(3)
Position ladder (2) on the ground in the upright position with hooks (4)
facing toward truck.
Keep hands and fingers clear of ladder rungs and sides when
placing ladder in the stowed position or injury to personnel
may result.
(4)
Position hands on ladder handles (5) and lift up on left ladder handle (5)
until ladder (2) is in the stowed position.