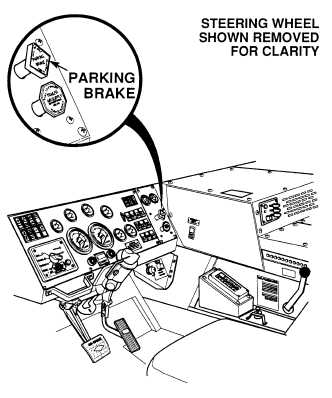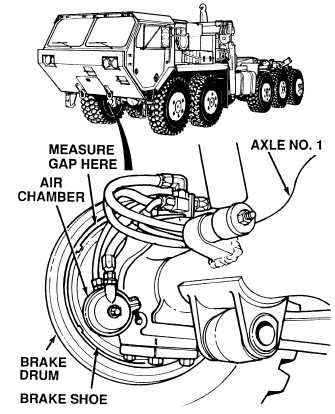 TM 9-2320-364-20-2
2-1891
(1)
Release PARKING BRAKE
(TM 9-2320-364-10).
(2)
Check gap between brake shoe and
brake drum (Para 12-3).
(a)   If the gap is less than 0.0315 in.
(0.08 mm), replace brakes
(Para 12-2).
(b)   If gap is greater than 0.0315 in.
(0.08 mm), brakes are OK.
Truck must be on level ground and wheels must
be chocked before parking brake is released.  
Otherwise, truck may roll and cause injury to
personnel.
ADJUSTMENT TEST
NOTE
PLS truck air system pressure must be
between 90 and 125 psi (620 and 861 kPa) to
begin troubleshooting brake system.  If air
system pressure cannot be maintained within
this range,refer to Air System Troubleshooting
Procedures (Para 2-27).