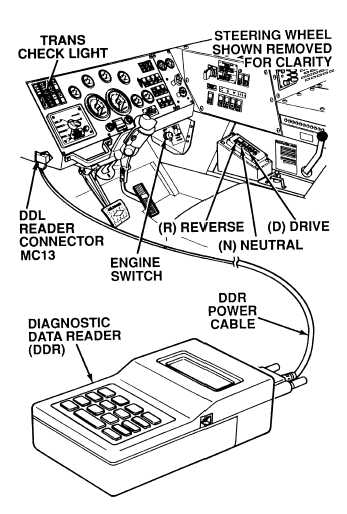 TM 9-2320-364-20-2
2-889
(1)   Turn ON ENGINE switch
(TM 9-2320-364-10).
(2)   Select DIAG CODE display and scroll
to REV PRESS SW.
(a)   If DDR displays ON, there
is reverse pressure when
D (Drive) is selected.  Pressure
switch is faulty.  Notify DS
Maintenance.
(b)   If DDR displays OFF, there
is no reverse pressure when D
(Drive) or N (Neutral) is selected.  
Pressure switch is OK.
(3)   START engine.
(4)   Repeat Step (2) above.
(5)   Select (R) Reverse and (D) Drive
while observing DDR.
(6)   If directional signal from either
pressure switch is reading incorrectly,
wiring or internal transmission
components are suspect.  Perform
Steps (7) and (8) below and notify
DS Maintenance.
(7)   Turn OFF ENGINE switch.
(8)   Disconnect DDR cable from DDL
connector MC13.
DDR TEST
Remove all jewelry such as rings, dog tags, bracelets, etc.  If jewelry or tools contact positive electrical
circuits, a direct short may result.  Damage to equipment, injury or death to personnel may occur.