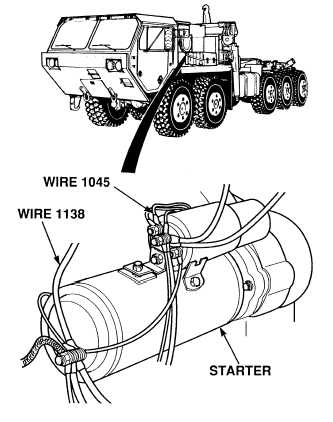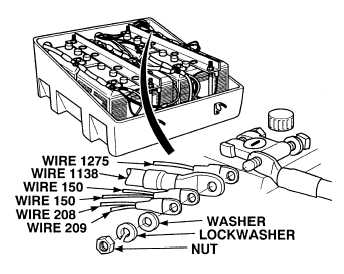 TM 9-2320-364-20-2
2-959
(1)   Connect positive (+) multimeter
lead to wire 1045 at starter solenoid.
(2)   Connect negative (–) multimeter lead
to a known good ground.
(3)   While assistant holds ENGINE
switch in START position
(TM 9-2320-364-10), observe
multimeter.
(a)   If 22 to 28 vdc are not present,
turn OFF ENGINE switch and
repair wire 1045 (see schematic
Fig 2-24) or notify DS
Maintenance.
(b)   If 22 to 28 vdc are present,
wire 1045 is OK.
(4)   Turn OFF ENGINE switch.
VOLTAGE TEST
22 to 28 vdc are always present on wire 1139 at starter solenoid.  Remove all jewelry such as rings, dog tags,
bracelets, etc.  If jewelry or tools contact positive electrical circuits, a direct short may result.  Damage to
equipment, injury or death to personnel may occur.
Corrosion inhibitor contains alkali.  Do not get in eyes; wear goggles/safety glasses when using.  Avoid contact
with skin.  In case of contact, immediately wash area with soap and water.  If eyes are contacted, flush eyes
with large amounts of water for at least 15 minutes and get immediate medical attention.
(1)   Disconnect wire 1138 from battery 4
(Para 7-90 or 7-91).
(2)   Set multimeter selector switch to
ohms.
(3)   Is there continuity on wire 1138
between starter motor and end of
wire?
(a)   If there is no continuity, repair
wire 1138 (see schematic
Fig 2-24) and perform Step (4)
below.
(b)   If there is continuity, wire 1138 is
OK.
(4)   Connect wire 1138 on battery 4.
(5)   Tighten nut to 23 lb-ft (31 N.m).
(6)   Apply corrosion preventive compound
on nut.
CONTINUITY TEST
While applying torque to nut, hold screw
with wrench or damage to battery may occur.