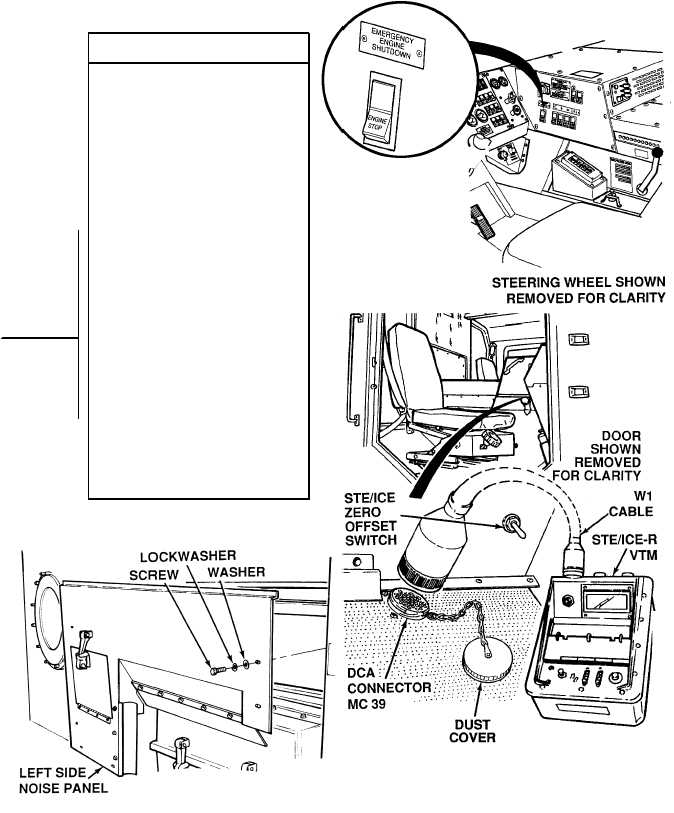 TM 9-2320-364-20-2
2-965
(1)   Remove dust cover from DCA
connector MC-39.
(2)   Connect DCA cable W1 to the
vehicle test meter (VTM) and DCA
connector.
(3)   Power-up the STE/ICE-R VTM in
the DCA mode
(TM 9-4910-571-12&P).
(4)   Enter vehicle identification (VID)
number (38).
(5)   Perform a confidence test.
(6)   Set TEST test select switch to 74.
(7)   Perform offset test.
(8)   Press and release TEST button.
(9)   When GO is displayed on the VTM,
push down and hold engine stop
switch and turn ENGINE switch
to START until OFF is displayed
on VTM (TM 9-2320-364-10).
(10)   Turn OFF ENGINE switch, release
engine stop switch and wait
about five seconds.
(a)
If more than 25 miliohms
are displayed, replace starter
(Para 7-12) and perform Steps
(11) through (13) below.
(b)
If 25 miliohms or less
are displayed, notify DS
Maintenance.
(11)   Disconnect DCA cable W1.
(12)   Install dust cover on DCA connector
MC39.
(13)   Install left front noise panel and
left side noise panel, 15 screws,
washers, and lockwashers.
STE/ICE-R #74