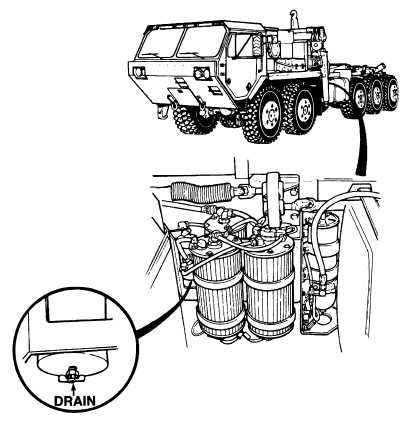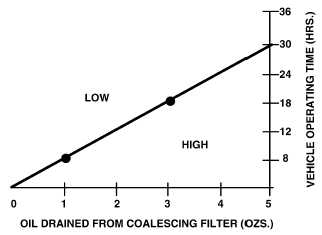 TM 9-2320-364-20-2
2-983
(1)   Drain air system pressure to zero
(TM 9-2320-364-10).
(2)   Place measuring cup under coalescing
filter drain.
(3)   Open drain and allow oil and other
contaminants to drain.
(4)   Close drain.
(5)   Allow oil and contaminants to settle
for at least 24 hours.
(6)   Determine the amount of oil in ounces
(ml) that has settled on top of container.
(7)   Compare oil amount with engine
operating hours since last coalescing
filter draining to Table 2-33.
(a)   If oil amount is in the HIGH area,
notify DS Maintenance to replace
air compressor.
(b)   If oil amount is in the LOW area,
air compressor is OK.
MEASUREMENT TEST
Table 2-33.