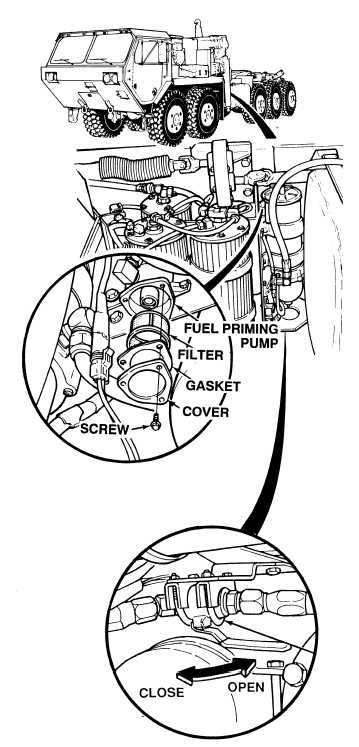 TM 9-2320-364-20-2
2-1033
(1)   Place drain pan under fuel
priming pump.
(2)   Ensure manual ball valve in fuel
supply line is closed.
(3)   Remove three screws, cover, gasket
and filter from fuel priming pump.  
Discard gasket.
(4)   Inspect filter for foreign matter that
would clog filter or restrict flow.
(a)   If filter is plugged or restricted,
replace filter (Para 4-3) and
perform Steps (5) and (6) below.
(b)   If filter is clean and free of
obstructions, replace fuel priming
pump (Para 4-2).
(5)   Install filter, gasket and cover on fuel
priming pump with three screws.
(6)   Open manual ball valve.
VISUAL INSPECTION
Fuel is very flammable and can explode easily.  To avoid serious injury or death, keep fuel away from
open fire and keep fire extinguisher within easy reach when working with fuel.  Do not work on fuel
system when engine is hot.  Fuel can be ignited by hot engine.