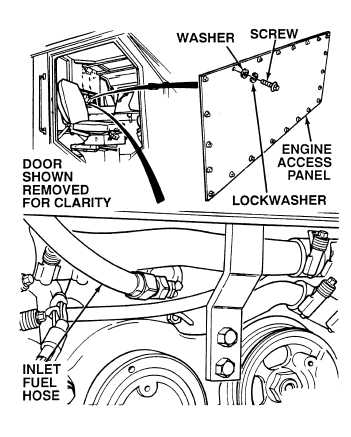 TM 9-2320-364-20-2
2-1035
(1)   Remove 22 screws, lockwashers,
washers and engine access panel.  
Discard lockwashers.
(2)   Loosen inlet fuel hose at fuel pump.
(3)   Turn ON ENGINE switch
(TM 9-2320-364-10).
(a)   If fuel does not flow from fitting,
turn OFF ENGINE switch, and
replace fuel/water separator filter
(Para 4-17).
(b)   If fuel flows from fitting,
fuel/water separator filter is OK.
(4)   Turn OFF ENGINE switch.
(5)   Tighten inlet fuel fitting.
VISUAL INSPECTION
Fuel is very flammable and can explode easily.  To avoid serious injury or death, keep fuel away from
open fire and keep fire extinguisher within easy reach when working with fuel.  Do not work on fuel
system when engine is hot.  Fuel can be ignited by hot engine.