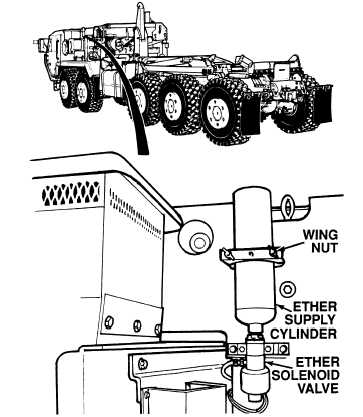 TM 9-2320-364-20-2
2-1059
(1)   Loosen two wing nuts and unscrew
ether supply cylinder.
(2)   Shake cylinder.
(a)   If there is no ether in cylinder,
replace cylinder (Para 4-18).
(b)   If there is ether in cylinder,
go to Step 3 below.
(3)   Screw ether supply cylinder into
solenoid valve and tighten two
wing nuts.
(4)   Ensure cylinder is installed correctly.
AUDIBLE INSPECTION
Ether is toxic and highly flammable.  Container is pressurized.  Never heat container and never discharge
ether into confined areas or near open flame.  Severe injury to personnel may result.
Temperature at engine block must be below
55

°

F (13

°

C) before ether starting aid will work.
NOTE