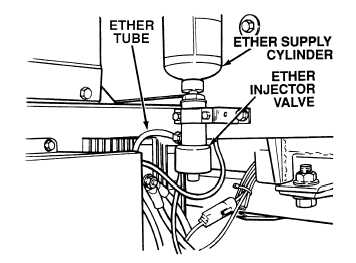 TM 9-2320-364-20-2
2-1061
Check ether supply tube and fittings along
entire  length,  for  looseness,  leaks  and
crimps.
(1)   If ether supply hose is loose,
leaking or crimped, tighten or
replace hose as necessary
(Para 4-19).
(2)   If ether supply hose and fittings
are OK, go to Step 3 of this Fault.
VISUAL INSPECTION
Ether is toxic and highly flammable.  Container is pressurized.  Never heat container and never discharge
ether into confined areas or near open flame.  Severe injury to personnel may result.